The first stop we made during our travel through Perú, Bolivia and Ecuador was Lima. This city is the capital of Perú and contains nowadays around 8 million people. This number shows that Perú knows as well the problem of land flight. Huge numbers of people see no chance in the often arid country and search their luck in the big cities. Obviously the country is called a development country and the catholic church has maybe more influence on people than the government.
Because of this fact Lima is nothing else than another moloch of this globe: Dirty, overpopulated and with not much future for the most inhabitants.
But even this huge human made pile of rubble offers places worth visiting. One is the seaside park in Miraflores. It is not in one piece but the city council made it possible to run from one side to the other without any big problems. Any Lima visitor with running ambitions should take the chance.
Other points of interest can be found in the oldest quarter of the town: Placa de Armas for example.
Here it is possible to get some impression of the famous balconies: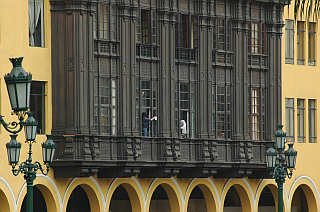 Some of them show the huge arabic influence in Spanish design which dominated Peruian architecture after the Conquistadores arrived.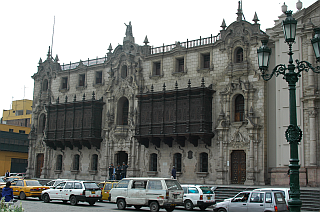 The placa is dominated by the cathedral. The fountain in front of its doors offer a bath for the thousands of doves.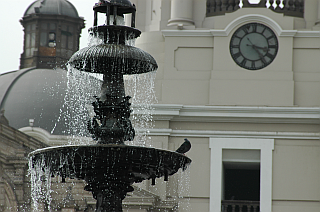 The train station is not far away from the placa. Unfortunately the train is not important anymore in Peruian transport politics. Only some cargo or tourist trains are still in operation (most important are the trains going to Machu Picchu or the tracks connecting Cusco with Puno). This development can be seen in a lot of countries (from Iran over the USA till New Zealand) and it makes me always happy to live in Switzerland, which offers a nearly perfect railway system.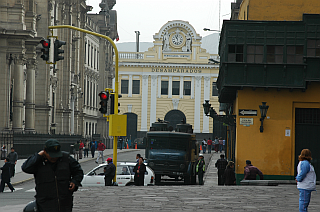 The seat of the government with the two official Peruian flags: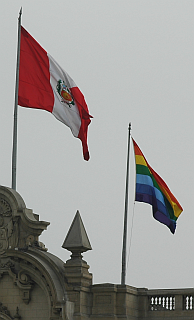 After centuries of Spanish domination which not ended with the independence nowadays the Indian majority is fully accepted. Their language and their (Inca) flag is official. Don't confuse it with the peace or gay flag!
Some presents from other head of states were quit useful for former president Fujimori: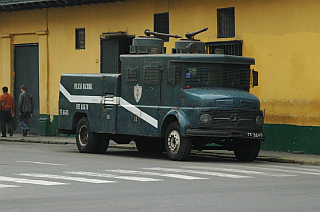 The nice car came from the Chilenian bastard Pinochet. The "noble donator" who offered it to the General to support his torture war against "socialists and other communists" is still visible on the cooler. Active German development aid for a peaceful and obsequiously South America.